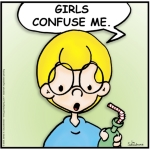 I would refute that statement you little blond cartoon man drinking what I am sure is a very savory soda pop...
BOYS CONFUSE ME.
"Boys are beyond the range of anybody's sure understanding, at least when they are between the ages of 18 months and 90 years."
And James Thurber fully supports me.